Seroquel capsule The road to the lookout has a neat feature due to the canopy the trees that have formed over it. While you are walking on the road it is as if you are taking a walk through the country even though you are only a few feet from gas stations and restaraunts. There does come a time though when walking is all you can do. The lower growth was growing out over the road to where a car could not make it down the road without hitting a limb or two.  Some citizens of our town had some community service due so I organized a clean up event for them on June 29th . A good friend of mine came over to help "supervise" . In the end we all worked together and got it cleaned up. We took 15 pickup truck loads to the burn pile. Straightened ties at the entrance and mowed down some extra weeds at the entrance of the road and all around the deck. The end of the day was a late lunch at La Pachanga's for all the workers. This is the restaraunt that sits right in front of the entrance to the lookout road.  We truly hope that everyone enjoys their visit to the lookout and the area. The lookout point is next on the list of updates but we will need some help with that. To read about that plan please click this link.
A dead tree that fell after the last storm.

Yep it is looking a little shaggy.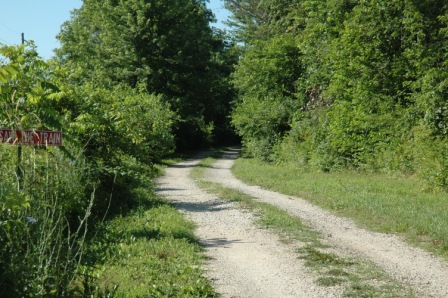 Time to start up the chainsaw

The road was blocked all the way to the lookout with many limbs and small trees after the cuttign was done.

Welcome

All clean and nice

A view of the work in front of the lookout
http://www.aprhf.org/wp-content/uploads/2013/07/MIA_6125.jpg
Looking good now 🙂