Hello everyone! This is Robert Tabern, Chicago Coordinator for the Trails & Rails co-sponsored by APRHF. With the end of June and the start of July just around the corner… it's been quite a busy week here with the program in full swing on the Southwest Chief.
My wife and Assistant Coordinator, Kandace Tabern, got to do a trip to La Plata last weekend… and is gone again this weekend too… doing another Trails & Rails program out to Missouri. Even though I was supposed to go with her on both trips, I am glad she decided to go anyway when a job change prevented from from doing these trips. Kandace put a lot of time helping me establishing this program… and I am glad she is able to do some of the fun aspects (the trips!!) after some of the more tedious administrative and research duties we had been doing all spring.
I did get away myself for 1 trip this week too… going out on a special training run on Tursday/Wednesday  for 2 new docents. In addition to getting Frank and Ruth Maxwell acquainted with the new route, Bob Cox and I were interviewed about Trails & Rails by a reporter/photographer for KTVO-TV, the ABC-TV and CBS-TV affiliates in Kirksville, Missouri.  They are doing a series of reports on travel in July… and this will be one of their story. Once it airs we'll go ahead and post a link for you.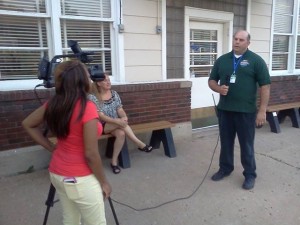 Here is the blog my wife wrote about her trip on June 22-23, 2013:
Trip Summary for June 22-23, 2013
By Kandace Tabern
The trip out Saturday went very well we had six Jr. Rangers swore in while we were on the train. Passenger count was good — almost a sold out train. My Partners were John Kelly and Alane Morgan. People were very interested in our program one passenger even asked how to get involved with Trails & Rails, so i referred him to the National Park Service website and told him to look for Trails and Rails or go to Amtrak's website as they have info on there now. Once in La Plata we went to the hotel, changed, and took the golf cart to the rail fan lookout which was fantastic nice evening and it had cooled down when we got there.
Sunday 6/23/13
Trains was running 30 minutes late so it gave us time to relax at the hotel before going to the depot. Once at the depot we were met by Amy Cox (Bob's wife) as our morning station keeper. Once on the train we went to work setting up and starting to tell the passengers about our program. They REALLY liked that we had so much history to tell they about including the facts about the Mississippi River and  enjoyed the water that we had to show them from the river, they also enjoyed learning about the wind turbines, about Plano being the film set of the Super Man movie "Man of Steel".  They enjoyed the Trivia that we did, and getting involved with the docents. We ended up only being 15 minutes late into Chicago and everyone was able to catch their transportation home. 
Thanks for taking the time to read this blog. And come join us on the Southwest Chief this Summer……..