It may be hard to believe, but  it's been a whole year since the APRHF-sponsored Trails & Rails program began rolling on Amtrak's Southwest Chief between Chicago , Illinois and La Plata, Missouri. Tuesday, May 13, 2014 officially marked the beginning of the program's second year of trips.
In case you are not familiar with Trails & Rails, it is a partnership program between Amtrak and the National Park Service that places volunteer NPS rangers aboard Amtrak  trains to present interpretive programs to passengers. Topics covered include history, ecology, and geology.  Trails & Rails began at a National Park Service unit in New Orleans and expanded to become a nation-wide program 14 years ago; today there are more than 20 route segments covered across the country, including on the Southwest Chief through portions of Illinois, Iowa,  Missouri, Colorado, and New Mexico.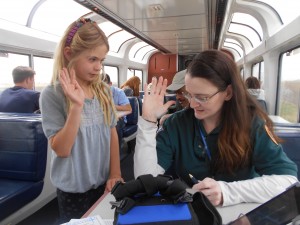 Chicago-based Trails & Rails volunteers were assigned by the National Park Service to the Texas Eagle route between Chicago and St. Louis from 2000 to 2004, and then, on the Empire Builder route between Chicago and Minnesota from 2005 to 2010.   At the end of the 2010 season, the Mississippi National River & Recreation Area in St. Paul, MN, which had been the program sponsor, decided to replace Chicago-based volunteers with Twin Cities-based volunteers for their program. This decision left Chicago without a Trails & Rails program on a long-distance route for the next two years.
In early 2012, several displaced Trails & Rails volunteers banded together to consider the probabilities of forming a new program on another long-distance train out of Chicago.  There were two significant obstacles that kept preventing this from becoming a reality, at first. Since there aren't very many National Park Service units in the Midwest to begin with, finding a sponsor park to oversee a new program was not an easy task. Making things even more difficult was the fact that Trails & Rails has not seen an increase in funding in several years, essentially eliminating any new overnight programs from coming into creation.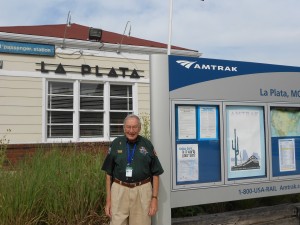 By late 2012, a deal was reached between Trails & Rails management and the American Passenger Rail Heritage Foundation (APRHF) in La Plata, MO, forming the brand new program on the Southwest Chief between Chicago and La Plata. Terms of the agreement included oversight for the program coming from Trails & Rails' National Coordinator James Miculka and Assistant Lecturer Susan Scott at Texas A&M University, in lieu of NPS rangers. The APRHF program became only the second in the country not to be managed directly by a unit of the National Park Service.  Robert Tabern was named Chicago Coordinator of the group, and his wife, Kandace Tabern, was named Assistant Chicago Coordinator; they oversee the day-to-day operations of the volunteers and program needs. The biggest breakthrough came though when the APRHF and the Depot Inn & Suites in La Plata, MO agreed to provide lodging for the Trails & Rails volunteers during their turn-around.  Chicago Coordinator Tabern explains, "I tell everyone on the train how great the Depot Inn & Suites and the APRHF have been to us. If Bob, Steve, and Barbara and everyone in La Plata didn't agree to support Trails & Rails by providing us rooms, we would simply not have a program. We'd be on year four of no long distance Trails & Rails program out of Chicago… period. Amtrak and the National Park Service were only really interested in talking to us after we reassured them that we would come up with our own lodging needs."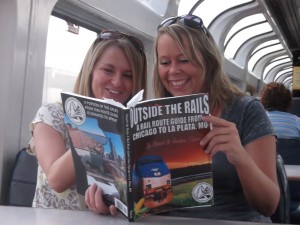 And so it started… Trails & Rails arrived in to La Plata on May 18, 2013. Nearly 50 trips followed during the course of the Summer and Winter 2013 seasons and more than 20,000 passengers heard the programs presented by the National Park Service and APRHF Trails & Rails volunteers.
Following a brief off-season (January to April 2014) which was used to train new volunteers, revise the reference manual, and raise funding, Trails & Rails volunteers arrived back in La Plata on the night of Tuesday, May 13, 2014, marking the start of the second year of the program. Chicago Coordinator says, "It's great to be back. The program will pretty much operate the same as last year. We will provide narration in the upper level of the Sightseer Lounge Car and still do our trivia and junior ranger programs. We also will have some new additions this year. We have six new types of handouts for passengers – route guides, 'get-around' Chicago guides, and more information about the Trails & Rails program. We will also have the much sought-after National Park Passport stamp for the Southwest Chief Texas A&M route."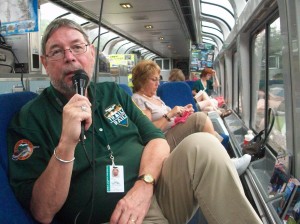 Looking to participate in the program?  You can interact with Trails & Rails volunteers on Train #3 (westbound Southwest Chief) between Chicago and La Plata, MO on TUESDAYS and THURSDAYS between May 13 and September 22, and, on Train #4 (eastbound Southwest Chief) between La Plata, MO and Chicago on WEDNESDAYS and FRIDAYS between May 14 and September 23.  (Note: During the week of Independence Day, there will only be ONE program presented in each direction; Chicago to La Plata on Train #3 on July 1st and between La Plata and Chicago on Train #4 on July 3rd).  There will also be a Winter 2014 season that will take place in November and December 2014 with dates still to be announced.
Assistant Chicago Coordinator Kandace Tabern says, "There are a lot of ways passengers can show their support for our Trails & Rails program. First, if you come to La Plata because of our program, be sure to stay at the Depot Inn & Suites and tell the hotel manager, Maria, you are staying there because of our program. The more people we can draw into La Plata, the more support we are likely to keep getting rooms for our volunteers. You can also purchase a copy of our reference manual if you are traveling when no volunteers are aboard. The book is called "Outside the Rails: A Rail Route Guide from Chicago to La Plata, MO" and it's available on-line and  in the lobby of the Depot Inn & Suites. You can also make a donation to the Trails & Rails fund at APRHF which goes directly towards our operating expenses. Mail it to the APRHF; just put "Trails & Rails fund" in the memo line of your check."
Come and check out Trails & Rails on the Southwest Chief this summer… we hope to see you sometime soon!