http://antihousewife.com/2010/11/summer-camping/ It is kind of a gray day in LaPlata, MO, but the smiles were beaming as we accepted this beautiful donation of a replica of the Santa Fe Gibbs Train Depot. This open-air type station served as a flag stop to the small farming town of Gibbs, MO. Gibbs is located about 5 miles East of LaPlata, MO by rail. We are MP 312.7 and Gibbs is 307.0. The real depot like this one closed in the 1960's.
Now lets fast forward to about ten years ago. This replica was built for fun by a local citizen. After it was built he set it in his yard. It was for sure an attention-getter when you were rolling down Brown Street. The builder even had the only initials that were carved in the original replicated by the same individuals.
A few months ago after the Lookout Point Park was officially announced, Mr. Ross decided that this depot should be across the street on the property. In an effort to minimize damage to both properties we waited until the ground was frozen. Drew Magers, of Drew Magers Construction, decided that today was the day to make that happen.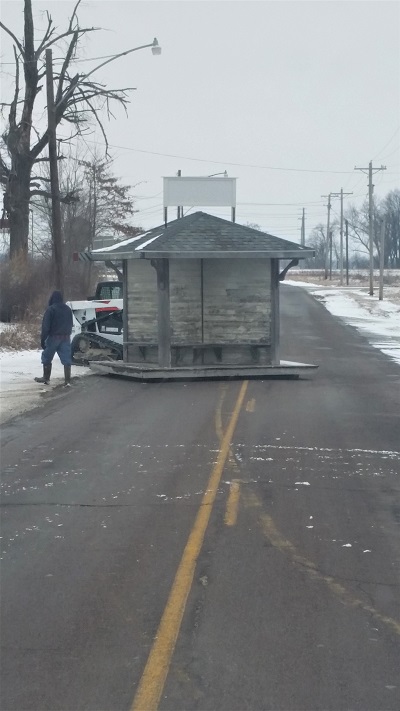 A huge thank you to The Ross's for the donation and Drew for helping us move this today. We love it!!